DENSER
STRONGER
LUSHER TURF
Problematic Turf Diseases
Turf are subject to many diseases that are caused by pathogens (fungi) such as Pythium sp., Fusarium sp., Dollar Spot (Sclerotinia Homoeocarpa), Xanthomonas sp., Brown Patch (Rhizoctonia sp.), and many others.

Such diseases, if not properly treated become chronic and the patches continue to grow throughout the year, causing turf to appear colored Bronze to Red and eventually fade.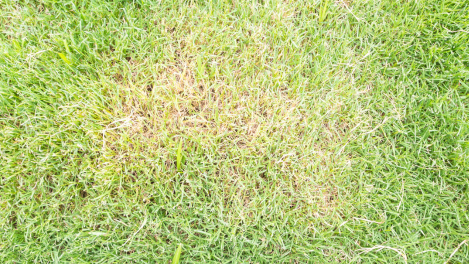 Denser, Stronger, Lusher Turf
CIDE Turf is best applied for Natural, Hybrid and Artificial Turf, be it in Parks, Sports and Recreational Fields, Golf Courses, Airports Runway Surroundings, Nurseries, Gardens and Lawns, Pets Facilities, among others.
Its tested results guarantees a turf denser, lusher and stronger than before being treated with CIDE Turf that works as a Photosynthesis Enhancer and facilitates Liquid Aeration.
CIDE unique mode of action, treats, controls and prevents soil, roots and foliar diseases in turf such as Pythium, Fusarium, Dollar Spot, Xanthomonas, Brown Patch, and many others.

CIDE Turf
CIDE proved utmost efficacy eliminating both Gram Positive and Gram Negative Bacteria as well as Enveloped and Non-Enveloped Viruses, Fungi and Algae; with both Lipophilic and Hydrophilic Groups CIDE has the perfect orientation to the interphases.

CIDE Proven Prolonged Protection was scientifically established; giving it an edge when long term protection is needed.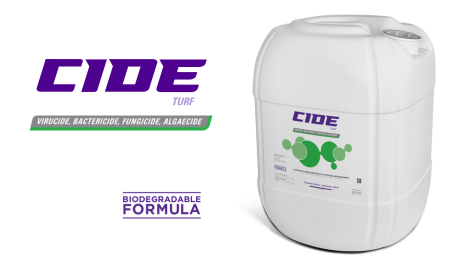 Proven to Cure, Control and Prevent Soil, Roots and Foliar Diseases

Photosynthesis Enhancer I Liquid Aeration I Lush Turf
​Eliminates Microbial Contaminations

Obliterates Resistance Mutations

Sustains Consistent Performance

Reduces Surface Tension

Stable in the Presence of Organic Matter

Penetrates Biofilms, Small Pores and Crevice
High Yield

Food Grade

Human Safe

Non-Carcinogenic

Non-Toxic

Non-Corrosive

Systemic and Contact Actions




Instant penetration and reduction of water surface tension by up to 54%, allowing wider coverage. With its unique mode of action, CIDE systemic and contact actions allow the solution to reach deep roots, pockets, and crevices to eliminate soil, roots and foliar-borne pathogens.

Eliminates a broad-spectrum
of pathogenic microorganisms

Tested with excellent results on: Xanthomonas campestri • Sclerotinia homeocarpa • Helminthosporium spp • Anthracnose sp • Fusarium roseum • Pseudomonas sp • Physarium sp • Heterosporium echinulatum • Pythium sp • Rhizoctonia sp • Powdery Mildew • Cladosporium


Cost Efficient

Reduces CAPEX and OPEX. CIDE prolongs the longevity of lush turf, omitting the need of costly ongoing maintenance and seasonal replacement of turf.
Direction of Use
Dilute with Clean Water at Neutral Temperature

Dilute per desired phase and in accordance with Dilution Ratio

Apply evenly per indicated Application Method

Water the area thoroughly prior to application

Do not mix with other solutions or chemicals

Do not apply three days after usage of Pesticides and/or Fertilizers

Halting usage is not required after application

Inject diluted solution into irrigation system to omit accumulation of biofilm and eliminate contaminants for a healthier turf

The solution is weather independent





For utmost results, CIDE Turf should be applied in line with the routine irrigation schedule, phase and application method set. Improper watering can lead to poor results.
Dilution Range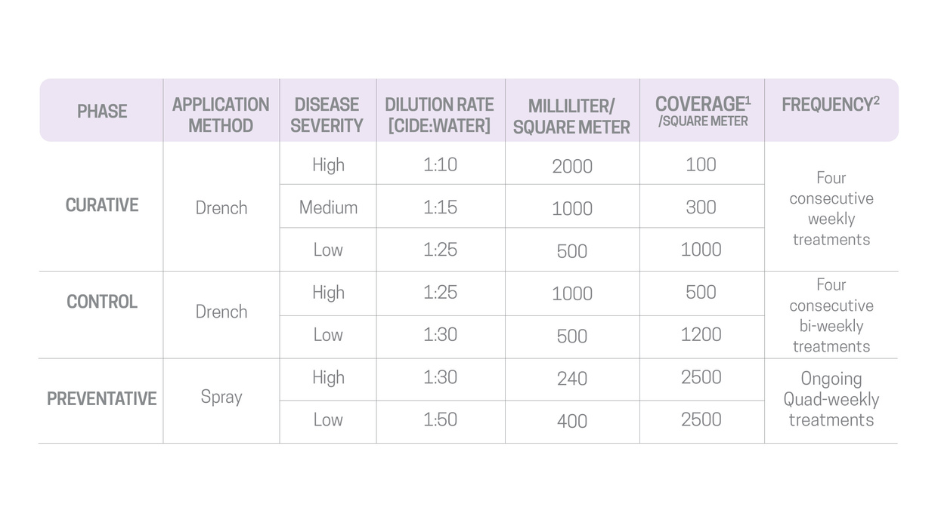 1: Indicative, contingent to application method, wind speed and ambient temperature
2: Applying the wrong frequency and/or inaccurate dilution ratio may jeopardize results

To receive the technical protocol of CIDE Turf, fill below form and submit it.
You will receive an email with the document.